Advice from Realtors Simon and Elizabeth Schellenberg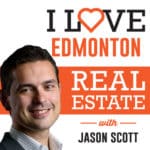 Edmonton Mortgage Broker
Advice from Realtors Simon and Elizabeth Schellenberg
About this episode of the I Love Edmonton Real Estate Podcast
In this episode, I, Jason Scott, talk with Simon and Elizabeth Schellenberg. They're married realtors who specialize in basement suite investments. In this episode, we cover:
Getting the family to help out
kids can help break the ice with clients
kids can help connect you with your clients
Trends in Edmonton
clients moving toward certainty
best to warn buyers when a property is going to move fast
still a lot of buyers even in a slower market
some of the fastest-selling properties are well priced suited houses
Neighbourhoods to look at in Edmonton
centrally located areas like Forest Heights, King Edward
Westmount and Inglewood
Queen Mary Park should see growth
Unconditional offers?
never sign an unconditional offer
the only exception is if it's an all-cash buyer, or an experienced developer
What to look for in a realtor
someone who listens to the buyer's needs
a good negotiator who is relatable and isn't aggressive
Wisdom
"The fast eat the slow"
"Be yourself"
"Do the right thing and the money will come"
Contact Elizabeth Schellenberg
Contact Simon Schellenberg
Social:
More About the I Love Edmonton Real Estate Podcast
Host Jason Scott of The Mortgage Group talks to everyone and anyone who knows real estate in Edmonton.
Learn from local experts and get the inside scoop on anything that impacts Edmonton's real estate market. Whether you are thinking of buying, selling or investing in the Edmonton market, Jason and his guests are here to help.
We interview top real estate professionals, decision-makers, influencers, and people who can help you learn more about what's happening in Edmonton.
TERM
BANK
RATES
OUR
RATES
1 Year
Fixed
6.09 %
5.99%
2 Year
Fixed
5.79 %
5.74%
3 Year
Fixed
5.79 %
4.99%
4 Year
Fixed
6.09 %
4.64%
5 Year
Fixed
6.34 %
4.59%
7 Year
Fixed
6.59 %
5.69%
10 Year
Fixed
6.67 %
5.39%
5 Year
Variable
6.70 %
5.70%
*This data is provided for information purposes only and is updated regularly. Posted rates are subject to change without notice.