Current Edmonton Real Estate Market with Shaun Cunningham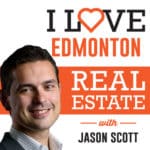 Edmonton Mortgage Broker
Current Edmonton Real Estate Market with Shaun Cunningham
About this episode of the I Love Edmonton Real Estate Podcast
Our guest today is Shaun Cunningham, a realtor with the central branch of RE/MAX in Edmonton. Shaun is here to discuss the current market issues and how he initially got into real estate.
[0:18] What got you into real estate?
I was in the auto industry for 12 years and just transitioned from cars to houses. It was an easy move.
[0:30] Are there any skills from the auto industry that have helped you in real estate?
Whether you are selling a car or a house the end goal is the same: to make the customer happy.
[0:50] Is there an area of the city that you focus on?
Most realtors focus on where they live, so I focus on Northeast Edmonton. Of course, we can go anywhere; I do business all over.
[01:23] I've heard that we are at a record low of inventory right now.
What's happening is a perfect storm because sellers don't want to list when it's 30 below outside.
With interest rates going up in November, people pre-approved before that are running out of time to find something.
[02:55] Do you think we are heading towards a more balanced market?
I think it will stay a seller's market for the next few months, depending on interest rates.
[03:38] How do you think this pandemic spring will compare to the 2 previous ones?
It depends on how many people are going back to the office. Many are working from home permanently and want more space, etc.
[04:52] What else are you seeing in the market?
$300,000-400,000 was the hot price point, but it has increased due to shortages.
[05:50] Are you seeing a lot of people moving here from out of the province?
The prices here are better than in Ontario.
[07:06] What prompted the move to real estate?
I had plateaued in the auto industry, and there is no better feeling than giving someone the keys to their house.
[08:24] What are the major stressors you come across?
Going through the process with clients, every step has the potential to go wrong. You need good people like inspectors and lawyers.
[09:34] What was your most frustrating day?
A day of possession, the clients and I pulled up to their new home and the entire driveway was filled with garbage.
[13:05] What's the best real estate advice you've ever received?
[15:07] What do sellers need to be aware of?
Getting property reports done on time, residential measurement standards, and material latent defects.
It's also essential to get sewer lines checked. They can be a costly future problem.
[20:25] How do you manage buyer expectations?
Ensuring they have all the information.
[24:32] What do you say when clients want to get aggressive and drop conditions?
I give them all the information and explain what could happen if you don't do the necessary things.
[25:20] Are you expecting a turnaround on condos?
We need to improve buyer confidence to change it.
Connect with Shaun:
RE/MAX Real Estate – Central Branch
#200, 10835-124 Street,
Edmonton, AB T5M 0H4
Cell – 780.265.0165
Office – 780.488.4000
Email – shaun.cunningham.yeg@gmail.com
Website – www.shaun.cunningham.remax.ca
More About the I Love Edmonton Real Estate Podcast
Host Jason Scott of The Mortgage Group talks to everyone and anyone who knows real estate in Edmonton.
Learn from local experts and get the inside scoop on anything that impacts Edmonton's real estate market. Whether you are thinking of buying, selling or investing in the Edmonton market, Jason and his guests are here to help.
We interview top real estate professionals, decision-makers, influencers, and people who can help you learn more about what's happening in Edmonton.
TERM
BANK
RATES
OUR
RATES
1 Year
Fixed
7.84 %
6.79%
2 Year
Fixed
7.34 %
6.39%
3 Year
Fixed
7.14 %
5.94%
4 Year
Fixed
6.99 %
5.69%
5 Year
Fixed
7.04 %
5.69%
7 Year
Fixed
7.59 %
6.14%
10 Year
Fixed
8.25 %
6.20%
5 Year
Variable
7.20 %
6.25%
*This data is provided for information purposes only and is updated regularly. Posted rates are subject to change without notice.