Having Trouble Getting Your Property Seen? Bruno Schiavon Talks About The Technology You Need To Use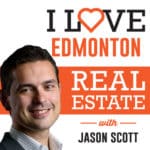 Edmonton Mortgage Broker
Having Trouble Getting Your Property Seen? Bruno Schiavon Talks About The Technology You Need To Use
About this episode of the I Love Edmonton Real Estate Podcast
On this episode, I, Jason Scott talks with Bruno Schiavon, Owner and Realtor with The Foundry Real Estate Company. Bruno talks about using top-tier technology to get properties seen, and what direction he sees the Edmonton market going.
Show notes:
How are you using technology?
We make sure the property is all over the internet.
Our budget focuses more on web advertising than traditional marketing avenues.
BestEdmontonHomeSearch.com is a premier property listing site we have created to showcase homes the way prospective buyers search for them.
It has a 2-day head start because the data comes from the real-time MLS, and not the one used by the public.
Using the web to its fullest to properly market properties.
What gets you frustrated the most?
Realtors who don't seem to care about their work.
Bad realtors make it harder for everyone.
Best Advice
Price is more important than location.
Everything is give and take.
A property on a busy highway will still sell if priced correctly.
Current Trends
Buyers are seeing bigger discounts.
Properties are sitting longer than normal if they are not priced correctly.
Charity
The Treehouse Initiative in partnership with the Carbon Farmer.
For every house we sell, we plant trees equal to the carbon footprint of the house.
Advice for choosing a realtor
Talk to all the realtors you know
Find a good listener, not one that only talks about themselves.
A go-getter that can jump to action when needed.
If you're selling, find someone who will showcase your property, not just themselves.
Contact Bruno
More About the I Love Edmonton Real Estate Podcast
Host Jason Scott of The Mortgage Group talks to everyone and anyone who knows real estate in Edmonton.
Learn from local experts and get the inside scoop on anything that impacts Edmonton's real estate market. Whether you are thinking of buying, selling or investing in the Edmonton market, Jason and his guests are here to help.
We interview top real estate professionals, decision-makers, influencers, and people who can help you learn more about what's happening in Edmonton.
TERM
BANK
RATES
OUR
RATES
1 Year
Fixed
7.84 %
6.79%
2 Year
Fixed
7.34 %
6.39%
3 Year
Fixed
7.14 %
5.94%
4 Year
Fixed
6.99 %
5.69%
5 Year
Fixed
7.04 %
5.69%
7 Year
Fixed
7.59 %
6.14%
10 Year
Fixed
8.25 %
6.20%
5 Year
Variable
7.20 %
6.25%
*This data is provided for information purposes only and is updated regularly. Posted rates are subject to change without notice.