How Do Mortgage Brokers Get Paid? Not By the Client – Busting Mortgage Myths Series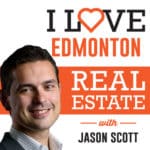 Edmonton Mortgage Broker
How Do Mortgage Brokers Get Paid? Not By the Client - Busting Mortgage Myths Series
About this episode of the I Love Edmonton Real Estate Podcast
Welcome to the second episode in our mortgage myths series! Elissa Fesyk once again quizzes me, Jason Scott, and this time the subject is how mortgage brokers make a living doing what they do.
When I get paid, 99% of the time it is by the lender, not the client. Why do lenders want to work with brokers? Brokers are outsourced lead generators for them; they don't have to pay salary or benefits. In exchange, they pay based on size and length of mortgage.
What matters to me is getting the client approved in a smooth and painless way. From a client's perspective, my best interest is to make a great situation for them. Sadly, there are also shady mortgage brokers out there. Look out for interest rates and do your research before you commit. If in doubt, look to the Real Estate Council of Alberta for advice.
Connect with Elissa Fesyk
More About the I Love Edmonton Real Estate Podcast
Host Jason Scott of The Mortgage Group talks to everyone and anyone who knows real estate in Edmonton.
Learn from local experts and get the inside scoop on anything that impacts Edmonton's real estate market. Whether you are thinking of buying, selling or investing in the Edmonton market, Jason and his guests are here to help.
We interview top real estate professionals, decision-makers, influencers, and people who can help you learn more about what's happening in Edmonton.
TERM
BANK
RATES
OUR
RATES
1 Year
Fixed
6.09 %
5.99%
2 Year
Fixed
5.79 %
5.74%
3 Year
Fixed
5.79 %
4.99%
4 Year
Fixed
6.09 %
4.64%
5 Year
Fixed
6.34 %
4.59%
7 Year
Fixed
6.59 %
5.69%
10 Year
Fixed
6.67 %
5.39%
5 Year
Variable
6.70 %
5.70%
*This data is provided for information purposes only and is updated regularly. Posted rates are subject to change without notice.