If You Have a Great Relationship With Your Bank, Do You Need a Mortgage Broker? Busting Mortgage Myths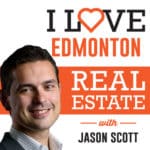 Edmonton Mortgage Broker
If You Have a Great Relationship With Your Bank, Do You Need a Mortgage Broker? Busting Mortgage Myths
About this episode of the I Love Edmonton Real Estate Podcast
This is the fourth in our mortgage myths series. Elissa Fesyk is asking me, Jason Scott, about the myths surrounding banks and brokers.
If you have been with a bank for a long time and have a great relationship with them, do you need a broker? The answer is, it depends. From my perspective, a client should benefit from expanded options.
I do work with banks as well; it just depends on what the best option for the client is. There are any number of circumstances that could impact the decision on you borrowing, and having options is always going to be beneficial.
If the best deal for you is at your bank, I will place you there. It doesn't always make a difference, but sometimes the relationship can benefit you. However, they aren't beholden to you, unlike brokers who want to get you the best deal.
Connect with Elissa Fesyk
More About the I Love Edmonton Real Estate Podcast
Host Jason Scott of The Mortgage Group talks to everyone and anyone who knows real estate in Edmonton.
Learn from local experts and get the inside scoop on anything that impacts Edmonton's real estate market. Whether you are thinking of buying, selling or investing in the Edmonton market, Jason and his guests are here to help.
We interview top real estate professionals, decision-makers, influencers, and people who can help you learn more about what's happening in Edmonton.
TERM
BANK
RATES
OUR
RATES
1 Year
Fixed
6.09 %
5.99%
2 Year
Fixed
5.79 %
5.74%
3 Year
Fixed
5.79 %
4.99%
4 Year
Fixed
6.09 %
4.64%
5 Year
Fixed
6.34 %
4.59%
7 Year
Fixed
6.59 %
5.69%
10 Year
Fixed
6.67 %
5.39%
5 Year
Variable
6.70 %
5.70%
*This data is provided for information purposes only and is updated regularly. Posted rates are subject to change without notice.