Is the Mortgage Broker on the Lender's Side? Busting Mortgage Myths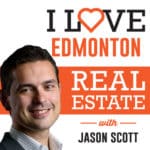 Edmonton Mortgage Broker
Is the Mortgage Broker on the Lender's Side? Busting Mortgage Myths
About this episode of the I Love Edmonton Real Estate Podcast
Elissa Fesyk is back to test me, Jason Scott, in our third episode of the mortgage myths series. This time, the myth is that the mortgage broker is on the lender's side.
From my perspective, I'm in it for the clients, not the lender. My job is to save you money and guide you through the process. Lender relationships are incredibly important, and size matters in the real estate world. There needs to be trust on both sides.
Sometimes the lender and broker are the same, making the client relationship a little different. While it isn't a whole lot different, there isn't the same number of fiduciary duties. It may conjure the image of hustling, but that isn't a bad thing.
Occasionally, lenders will offer incentives to mortgage brokers. Promotional compensation is possible if they are looking for a greater market share, but for me, the client relationship is king.
Connect with Elissa Fesyk
More About the I Love Edmonton Real Estate Podcast
Host Jason Scott of The Mortgage Group talks to everyone and anyone who knows real estate in Edmonton.
Learn from local experts and get the inside scoop on anything that impacts Edmonton's real estate market. Whether you are thinking of buying, selling or investing in the Edmonton market, Jason and his guests are here to help.
We interview top real estate professionals, decision-makers, influencers, and people who can help you learn more about what's happening in Edmonton.
TERM
BANK
RATES
OUR
RATES
1 Year
Fixed
6.09 %
5.70%
2 Year
Fixed
5.79 %
5.20%
3 Year
Fixed
5.79 %
5.04%
4 Year
Fixed
6.09 %
4.88%
5 Year
Fixed
6.34 %
4.79%
7 Year
Fixed
6.59 %
5.79%
10 Year
Fixed
6.67 %
5.44%
5 Year
Variable
6.70 %
5.70%
*This data is provided for information purposes only and is updated regularly. Posted rates are subject to change without notice.