Ready To Downsize? Craig Pilgrim Explains What You Might Not Know About Condos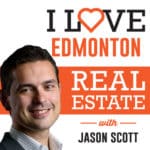 Edmonton Mortgage Broker
Ready To Downsize? Craig Pilgrim Explains What You Might Not Know About Condos
About this episode of the I Love Edmonton Real Estate Podcast
In this episode, I, Jason Scott have a conversation with Craig Pilgrim, a realtor with RE/MAX for 12 years. Craig tells us the secrets of downsizing and gives advice to buyers looking to upgrade. He also shares 2 great stories from his years of selling homes in the Edmonton area. Craig tells us about the St. Albert area and why it's his favourite.
Advice for upgrade buyers
Try to remain objective throughout the process. Emotion can be the biggest challenge to selling your home.
Have a backup plan. You have essentially asked your realtor to make you homeless. Make sure you know where you're going to be living between your old and new homes.
The secrets of downsizing
There is a belief that when you sell your large family home, you will make a bunch of money that will buy your next home and still have money left over. This usually never happens; at best it's a lateral move.
Condos come with fees you might not be expecting; also you will have little say on the condo board.
Moving to a small bungalow can be a smarter move. It will save you from fees and an unexpected special assessment.
Major renovations are not guaranteed to help sell your home. Trends 10 years ago might not be wanted today.
How to be successful in real estate
Be honest and do your homework.
Tell your client everything they need to know.
About St. Albert
St. Albert is very similar to Edmonton, with similar property types and trends.
Sale prices are higher in St. Albert than in Edmonton.
Properties spend less time on the market.
Excellent amenities like parks and schools.
Average tax difference between Edmonton and St. Albert is $500 a year.
Far less inventory than Edmonton.
How do you keep competitive in St. Albert?
Keep up to date on all the new properties that are hitting the market.
Advice for choosing a realtor
Interview everyone. A 45 min coffee can save you from making a poor decision.
Find a realtor with a good reputation.
Get a referral from an agent you trusted before. They can help point you in the direction of a liked-minded individual.
Connect with Craig Pilgrim:
Social:
More About the I Love Edmonton Real Estate Podcast
Host Jason Scott of The Mortgage Group talks to everyone and anyone who knows real estate in Edmonton.
Learn from local experts and get the inside scoop on anything that impacts Edmonton's real estate market. Whether you are thinking of buying, selling or investing in the Edmonton market, Jason and his guests are here to help.
We interview top real estate professionals, decision-makers, influencers, and people who can help you learn more about what's happening in Edmonton.
TERM
BANK
RATES
OUR
RATES
1 Year
Fixed
7.84 %
6.79%
2 Year
Fixed
7.34 %
6.39%
3 Year
Fixed
7.14 %
5.94%
4 Year
Fixed
6.99 %
5.69%
5 Year
Fixed
7.04 %
5.69%
7 Year
Fixed
7.59 %
6.14%
10 Year
Fixed
8.25 %
6.20%
5 Year
Variable
7.20 %
6.25%
*This data is provided for information purposes only and is updated regularly. Posted rates are subject to change without notice.