Real Estate Should Be Fun! with Lauren Hunt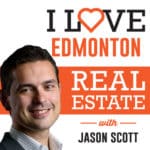 Edmonton Mortgage Broker
Real Estate Should Be Fun! with Lauren Hunt
About this episode of the I Love Edmonton Real Estate Podcast
Joining us today is Lauren Hunt with The Foundry Real Estate Company. We're going to hear from her about why real estate should be fun for everyone.
[0:25] It's been a hot start to 2022 for real estate. What have you been seeing?
There are not enough houses and too many people trying to buy the same kind of house.
Lots of multiples and unhappy buyers.
[01:00] Why do you think it's such a seller's market right now?
It's due to people relocating. Pricing in Edmonton is good right now.
[02:41] How did you get into real estate?
I worked in the design and construction sales industry for over 10 years.
It just seemed like a natural fit over time.
[03:43] How many houses do you think you went out to during that time?
Close to 5000 with the number of measures I would do.
[04:20] How does flooring sales tie into being a successful realtor?
I love homes and interiors. I've always loved design and I would watch reality television shows about design and real estate as a child.
[05:28] Is there a specific area or type of client you are focusing on right now?
I don't specialize in a particular area; I want to just focus on the clients that are skeptical about real estate.
[05:53] What do you mean by skeptical?
My mission is to change peoples' perception of the value of realtors. It should be an enjoyable and valuable process for both parties.
[06:35] Why do you think people undervalue realtors?
Due to online information availability, people think they know the ins and outs.
Realtors are a valuable source of education for buyers and sellers.
[07:58] You also have a background in psychology. How do all these things tie together?
It helps with the sales approach. I'm more concerned about the end result than the sale. Not everyone wants the same approach or outcome.
[10:05] Do you have any examples of where you've had to use your psychology skills?
When you are dealing with families or couples it can be tough. It's about acting ethically at all times and staying true to the client's best interests.
[13:00] When did you know it was time to switch to real estate?
It's scary to leave a good career. I was at work and I realized I could just go to IKEA. I realized I had time to take care of myself as well.
[15:35] What are people coming from out of province looking for?
Single-family homes and rentals.
[17:56] How do you counsel your clients when it comes to today's market?
If they aren't in a position to pull the trigger tomorrow, I tell them that. There's no waiting.
There's also an alarming number of foreclosures right now in unusual areas.
[22:08] How do you handle sight unseen sales?
Lots of Facetime walkthroughs.
[23:45] What's been your most frustrating day?
Dealing with a misleading posting and another agent.
[30:45] What advice would you give a family member on choosing a realtor?
Ask questions. Trust your instincts. It is a mutual relationship, and it needs trust.
Contact Lauren:
Social
More About the I Love Edmonton Real Estate Podcast
Host Jason Scott of The Mortgage Group talks to everyone and anyone who knows real estate in Edmonton.
Learn from local experts and get the inside scoop on anything that impacts Edmonton's real estate market. Whether you are thinking of buying, selling or investing in the Edmonton market, Jason and his guests are here to help.
We interview top real estate professionals, decision-makers, influencers, and people who can help you learn more about what's happening in Edmonton.
TERM
BANK
RATES
OUR
RATES
1 Year
Fixed
7.84 %
6.79%
2 Year
Fixed
7.34 %
6.39%
3 Year
Fixed
7.14 %
5.94%
4 Year
Fixed
6.99 %
5.69%
5 Year
Fixed
7.04 %
5.69%
7 Year
Fixed
7.59 %
6.14%
10 Year
Fixed
8.25 %
6.20%
5 Year
Variable
7.20 %
6.25%
*This data is provided for information purposes only and is updated regularly. Posted rates are subject to change without notice.