Sarah Leib Offers Advice for Buying and Selling In Edmonton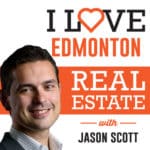 Edmonton Mortgage Broker
Sarah Leib Offers Advice for Buying and Selling In Edmonton
About this episode of the I Love Edmonton Real Estate Podcast
In this episode, I, Jason Scott, talk with Sarah Leib, an Edmonton real estate agent with RE/MAX River City. Sarah and her husband are both real estate investors and share the management of their rental portfolios. Sarah discusses how she manages her 30 rental units. Sarah's been a realtor in Edmonton for 5 years.
Show Notes:
Advantages of being a realtor and running rentals:
You get to know neighbourhoods quickly
You learn what people value in rentals
New condo buyers should look for:
Location
Quality of construction
Condo fee schedule
Buying a mature house in Edmonton? Be aware of:
The foundation—brick, block, or concrete?
Does it have a low basement?
Multiple offers?
As a seller, disclose the situation of multiple offers with the name of the buyer's agent
As a buyer, ask for the name of the other buyers' agent
Advice in finding a real estate agent
Look for an agent who is honest, communicative
Look for an agent who has experience in the type of building
Look for an agent who hasexperience in the neighbourhood
Contact Sara Leib
Social:
More About the I Love Edmonton Real Estate Podcast
Host Jason Scott of The Mortgage Group talks to everyone and anyone who knows real estate in Edmonton.
Learn from local experts and get the inside scoop on anything that impacts Edmonton's real estate market. Whether you are thinking of buying, selling or investing in the Edmonton market, Jason and his guests are here to help.
We interview top real estate professionals, decision-makers, influencers, and people who can help you learn more about what's happening in Edmonton.
TERM
BANK
RATES
OUR
RATES
1 Year
Fixed
7.84 %
6.79%
2 Year
Fixed
7.34 %
6.39%
3 Year
Fixed
7.14 %
5.74%
4 Year
Fixed
6.99 %
5.59%
5 Year
Fixed
7.04 %
5.39%
7 Year
Fixed
7.59 %
6.14%
10 Year
Fixed
8.25 %
6.20%
5 Year
Variable
7.20 %
6.20%
*This data is provided for information purposes only and is updated regularly. Posted rates are subject to change without notice.