The Coming Wave of Edmonton Neighborhood Modernization, with David Moriarity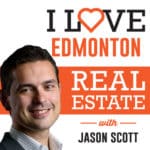 Edmonton Mortgage Broker
The Coming Wave of Edmonton Neighborhood Modernization, with David Moriarity
About this episode of the I Love Edmonton Real Estate Podcast
In this episode, I, Jason Scott talk with David Moriarity, who is a realtor with Century 21. David previously served in the Canadian Armed Forces, and served in Afghanistan. While recuperating from an injury, he decided to start learning about real estate. 7 years later, in 2016, he does between 50-70 transactions per year, which is an incredibly high pace to maintain.
What's in this episode:
Infill duplex
If a lot is RF3 zoned, you might consider side-by-side duplexes or front-back duplexes
Front-back duplexes are surprisingly common in Edmonton. These are duplexes with both front doors facing the street with a garage in the back. The City of Edmonton is supportive.
Construction by the numbers
Lot prices should be between $200k to $300k
Construction costs can be between $125 – $200 per sq. foot
A typical build takes about 7-9 months
Infill development challenges
Some neighbourhoods are making agreements with their neighbours to stop new developments (tear-downs)
Neighbouring homeowners can be affected by construction (having to replace a fence and the added noise)
The look for a neighbourhood can change with some houses not fitting in with the rest. (i.e. Strathearn and Bonnie Doon)
Overcoming development challenges
Realizing that all houses need to be renovated or replaced eventually
When all the work is done property values increase for everyone
Including the neighbourhood in the development process. Developers want the houses to look good too
Realizing that waiting on permits is a good thing as this means the city is cleaning up bad projects
Hot neighbourhoods in Edmonton (2016)
What to look for in a realtor
Get someone on the same page as you
Someone who you are comfortable with that is knowledgable and experienced
Advice
A good entrepreneur improves the lives of everyone around them
Give solid advice upfront to your clients
Pay attention and deal with things right away, don't let problems grow
Contact David Moriarity
More About the I Love Edmonton Real Estate Podcast
Host Jason Scott of The Mortgage Group talks to everyone and anyone who knows real estate in Edmonton.
Learn from local experts and get the inside scoop on anything that impacts Edmonton's real estate market. Whether you are thinking of buying, selling or investing in the Edmonton market, Jason and his guests are here to help.
We interview top real estate professionals, decision-makers, influencers, and people who can help you learn more about what's happening in Edmonton.
TERM
BANK
RATES
OUR
RATES
1 Year
Fixed
7.84 %
6.79%
2 Year
Fixed
7.34 %
6.39%
3 Year
Fixed
7.14 %
5.94%
4 Year
Fixed
6.99 %
5.69%
5 Year
Fixed
7.04 %
5.69%
7 Year
Fixed
7.59 %
6.14%
10 Year
Fixed
8.25 %
6.20%
5 Year
Variable
7.20 %
6.25%
*This data is provided for information purposes only and is updated regularly. Posted rates are subject to change without notice.