Two Big Secrets In Home Downsizing with Craig Pilgrim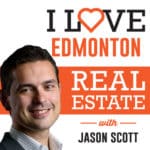 Edmonton Mortgage Broker
Two Big Secrets In Home Downsizing with Craig Pilgrim
About this episode of the I Love Edmonton Real Estate Podcast
In this episode, I, Jason Scott have a conversation with Craig Pilgrim, a realtor with RE/MAX for 12 years. We talk specifically about the details of downsizing!
1. Downsizing is a lateral move
Selling the big family home and buying a condo won't. Downsizing the house's square footage doesn't always correlate with your net worth tied up in real estate.
2. More people choosing small bungalows instead of condos
There is uncertainty with condo ownership.
How well is the condo corp run?
What special assessments or levies are just around the corner?
How stable are those condo fees?
Instead of monthly condo fees, people are opting to get a right-sized smaller house/bungalow.
Spend a fraction of a condo monthly fee by contracting out lawn/yard/snow work.
It's About Control
am I prepared to have control over a house and be responsible for its upkeep(?) vs. having a condo corp. having all the control and responsibility
strangers running a condo corp.
timing on repairs, personal cash-flow crunch
Challenges in Downsizing
set expectations for your home when selling
have you done a pricey renovation in the past?
what you love isn't necessarily what buyers love
resale homes are always being compared to current trends
It's Almost Never Worth It To Upgrade Before Selling
reset your expectations about your house's market value
don't spend your way into the next pricing bracket
Connect with Craig Pilgrim:
Social:
More About the I Love Edmonton Real Estate Podcast
Host Jason Scott of The Mortgage Group talks to everyone and anyone who knows real estate in Edmonton.
Learn from local experts and get the inside scoop on anything that impacts Edmonton's real estate market. Whether you are thinking of buying, selling or investing in the Edmonton market, Jason and his guests are here to help.
We interview top real estate professionals, decision-makers, influencers, and people who can help you learn more about what's happening in Edmonton.
TERM
BANK
RATES
OUR
RATES
1 Year
Fixed
7.84 %
6.79%
2 Year
Fixed
7.34 %
6.39%
3 Year
Fixed
7.14 %
5.94%
4 Year
Fixed
6.99 %
5.69%
5 Year
Fixed
7.04 %
5.69%
7 Year
Fixed
7.59 %
6.14%
10 Year
Fixed
8.25 %
6.20%
5 Year
Variable
7.20 %
6.25%
*This data is provided for information purposes only and is updated regularly. Posted rates are subject to change without notice.