It's a huge honour to make it to the Summit 5 for the fourth year in a row. Every year, TMG The Mortgage Group awards the Summit 5 award to the top 5 percent of mortgage associates with TMG. To win this award gets more challenging each year as TMG continues to grow across the country. There are more than 1000 great agents from coast to coast. Your continued confidence in me and the service I provide is humbling.
What does it mean to achieve the Summit 5 award? Achieving Summit 5 means that I've been able to provide value and advice to my clients and realtor partners, who reward me with repeat business and referrals to their friends and family. To be rewarded for being in the top 5 percent of mortgage associates is nice, but what's nicer is what that stands for. It stands for satisfied clients and partners who trust me and continue to use my services or refer me to others. That's a fabulous compliment.
The mortgage industry is extremely competitive and 80 percent of new agents leave the industry within two years. I'm in my 14th year now and I couldn't have achieved this level of success without your support.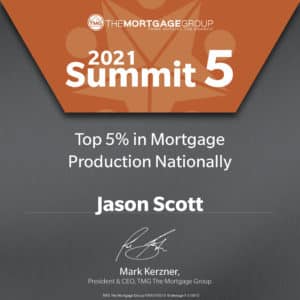 I always set goals and making Summit 5 and maintaining excellent customer service is always top of my list. It's one way I check in with how well I am serving my clients.
Buying a home is a stressful event for people. And the mortgage component is confusing. People want guidance and advice, and a seamless and stress-free experience. So I work to reduce my clients' stress.
What I do is provide education and unbiased advice so that clients can make informed decisions about their mortgage. A mortgage is a large liability and the goals are to minimize cost and ideally get the mortgage paid off sooner, rather than later.
I also try to go above and beyond for my clients whenever I can. For example, one way I've been able to do this is when I can get an exception to lender policy based on how a file is structured, so that an application is approved where it might otherwise have been declined.
These past few years haven't always been easy. The federal government is always tinkering with mortgage rules. They've added stress tests to make it more difficult for qualifying, and created programs like the First Time Home Buyer's Incentive. The good news for mortgage brokers and for me is that the more they tinker, the more the public needs mortgage brokers for advice. I focus on providing value by understanding the changing rules and making the process easy for you.
Of course, the pandemic caused disruptions as well. But after the initial shock to public confidence, housing demand has been incredible for the past 18 months.
Building a successful mortgage business didn't happen overnight. I focus on doing the right thing for clients, and with the help of my fabulous assistant, Ramzie, we make sure to make the mortgage process as smooth as possible. My assistant Ramzie is a great team member who keeps me organized and helps streamline the process.
In addition, the mortgage world is very much relationship-driven. Having great underwriters and document review specialists who work hard to get applications approved and funded is critical to my success. There would be no mortgage brokers without our lender partners.
So once again, thank you to my clients, partners, team, and everyone who made this award possible.
About Jason Scott
Looking for a personalized mortgage solution? As an Edmonton Mortgage Associate,  I'll be your trusted partner who will help you get the right mortgage for your family home or Investment property. I'm Jason Scott, and I'll be your Mortgage Broker Edmonton.